AKiTiO is proud to announce that our new one-bay, portable Thunderbolt storage device, the "Neutrino Thunderbolt Edition" is now available for shipping! The Neutrino will ship with a 120GB Intel 330 Series SSD.
This complete Thunderbolt storage solution also comes with a Thunderbolt cable (a $49 value), so all you need to do is just plug it in and it is ready to use.
The small 2.5" form factor makes it extremely portable and since it is bus-powered, there is no need for a power adapter. Just slip it into your pocket and you are ready to go! The Neutrino is the perfect solution for video editors, photographers and anyone else who wants or needs to transfer large amounts of data.
The Neutrino will retail for $299.99 (not inc. tax), making it the most affordable Thunderbolt SSD storage device on the market.
Check out the Neutrino on the official Intel list of approved Thunderbolt products.
Benchmark
The stylish, all aluminum, Neutrino features a high performance SATA controller for increased performance. Write speeds of up to 464 MB/second make the Neutrino the fastest one-bay Thunderbolt device currently available on the market.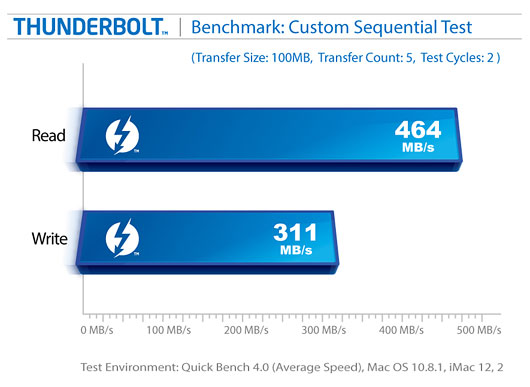 Real World Example
If you are looking for the fastest and most flexible technology currently available, then look no further than the affordable and portable AKiTiO Neutrino Thunderbolt™ Edition. To give you an idea of how much time you can save with a fast interface like Thunderbolt, let's compare it it to the the widely used USB 2.0 interface. As an example, transferring a large file of 8.5GB from your computer to the external storage device via USB 2.0 takes about 5 minutes, whereas the same file transfer via Thunderbolt only takes about 1 minute!