Thunder3 Quad X
External Thunderbolt™ 3 Storage Solution
This 4-bay storage enclosure is designed to house up to four 2.5-inch or 3.5-inch drives. With Software RAID, four striped SSDs can reach data transfer speeds of up to 1480 MB per second while the Thunderbolt 3 interface provides sufficient bandwidth for additional 4K video signal streams and data transfers at the same time. An ultra durable aluminum casing provides efficient heat dissipation, plus an extra large rear fan keeps your drives cool during long hours of operation.
Features
Thunderbolt 3 interface for lightning fast transfer speeds up to 40 Gbps
Second Thunderbolt 3 port supports Thunderbolt 3, USB 3.1 (10 Gbps), and DisplayPort devices
Power delivery provides up to 27W of power to recharge compatible laptops
Dedicated DisplayPort for additional monitor to expand the workspace
Holds up to four 2.5" or 3.5" drives with SATA 6Gb/s interface
Removable trays for easy SSD and HDD installation
Two big handles makes it easy to carry the device
Large fan for active cooling with power switch
Kensington security slot
Thunderbolt Connectivity
Thunderbolt™ 3
Thunderbolt 3 brings Thunderbolt to USB-C at speeds up to 40 Gbps, creating one compact port that does it all – delivering the fastest, most versatile connection to any dock, display, or data device. For the first time, one computer port connects to Thunderbolt devices, every display, and billions of USB devices. A single cable now provides four times the data and twice the video bandwidth of any other cable, while also supplying power to bus-powered devices.
The Thunder3 Quad X has two Thunderbolt 3 ports. The second port operates the same as a Thunderbolt 3 computer port by supporting Thunderbolt 3 (up to 5 daisy chained), USB 3.1 (10 Gbps), and DisplayPort devices.
DisplayPort
The dedicated DisplayPort connector makes it easy to connect an additional monitor to extend your workspace and it will free up the second Thunderbolt 3 port for other Thunderbolt 3 (up to 5 daisy chained), USB 3.1 (10 Gbps), and DisplayPort devices.
4-Bay Storage Solution
Removeable trays
Designed to house up to four 2.5-inch or 3.5-inch drives, the tray based system allows for easy installation and replacement of either the large desktop hard disk drives or the portable laptop drives and SSD's.
Note: Spare trays are sold separately in a set of four trays, extra screws and drive labels
Reversible USB Type-C™ Connector with Power Delivery (PD)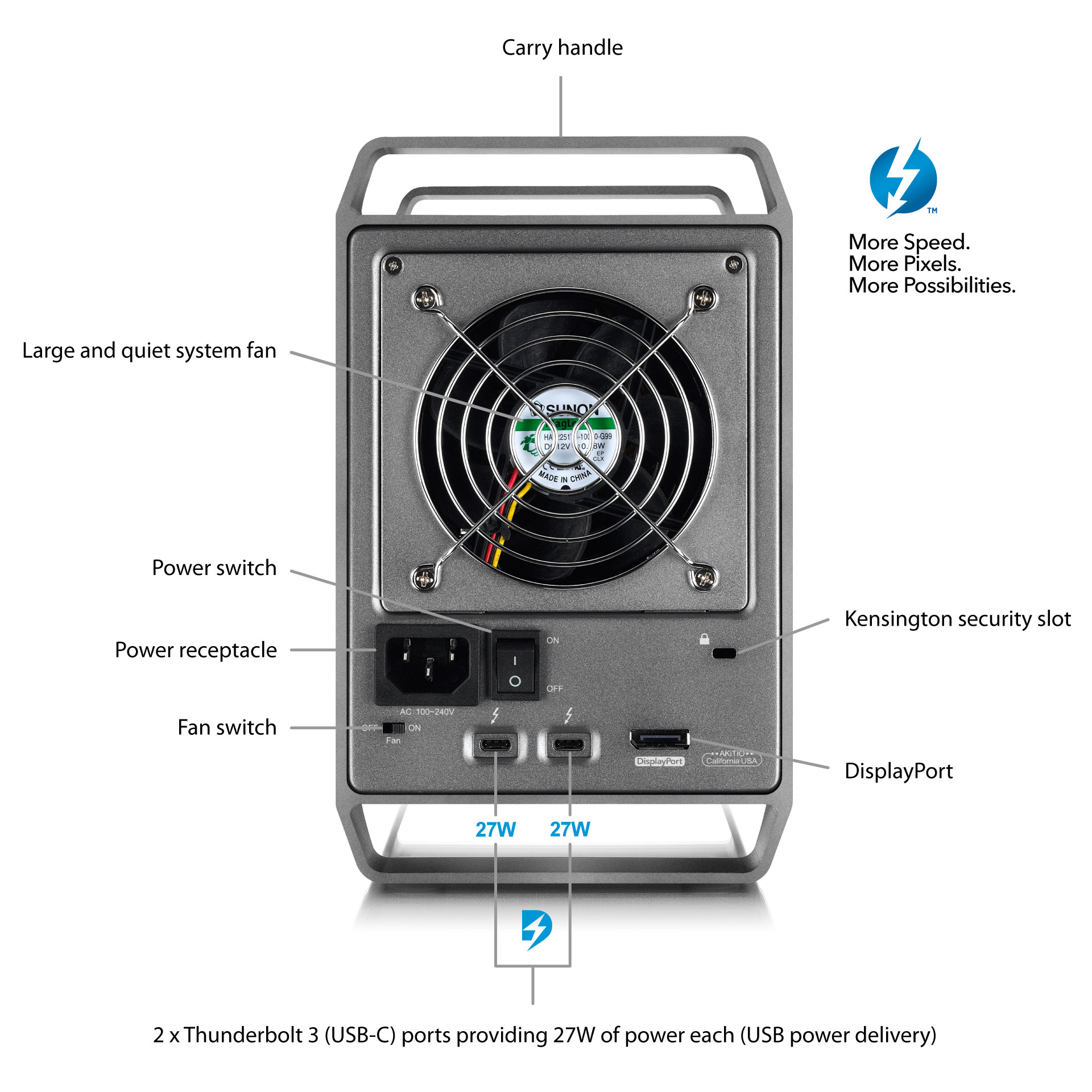 Power Delivery (27W)
The reversible USB Type-C (USB-C) connector enhances ease of use for connecting devices with a focus on minimizing user confusion for plug and cable orientation. The Thunder3 Quad X also supports power delivery (PD) over USB-C, providing 27W of power to compatible laptops like the MacBook Pro (late 2016) that support charging through the USB-C cable. This allows you to recharge your battery even though the laptop is not plugged into any other power source.
Both Thunderbolt 3 ports provide 27W of power, so it doesn't matter which port you connect to the computer and if you plug in another device that is compatible with USB PD (power delivery) to the second port, you can also charge at 27W.
Faster Backup and Data Duplication
With the free AKiTiO Data Multiplier application, backing up and duplicating files is faster than ever. Designed with video editors and data imaging technicians in mind, the application requires only a few clicks to simultaneously copy the files from one drive and duplicate them onto up to three other drives.
Benchmark
With Software RAID, the Thunder3 Quad X provides users the ability to edit and playback multiple streams of HD and/or 4K content with enough headroom to simultaneously daisy-chain additional monitors and storage devices.
For traditional hard disk drives (HDDs), depending on the RPM, the maximum transfer rate for a single drive (Non-RAID) is around 100-200 MB/s. When using four drives in a striped RAID set (RAID 0), the maximum transfer rate is therefore somewhere around 700-800 MB/s.
For solid state drives (SSDs), the maximum transfer speed is limited by the PCIe to SATA controller inside the Thunder3 Quad X to around 370 MB/s per drive. Because of this limitation, the maximum transfer rate for four striped drives (RAID 0) is about 1480 MB/s, despite the fact that the Thunderbolt 3 interface is capable of speeds faster than that.
Thunder3 Quad X



T3QX-T3DIAY-AKTU (without drives)






CE


FCC


VCCI


BSMI


RCM


Thunderbolt™ technology





High quality aluminum for optimized heat dissipation





Up to four 2.5" or 3.5" SATA hard disk drives or solid state drives





2 x Thunderbolt™ 3 (USB-C) ports


1 x DisplayPort 1.2





Thunderbolt 3 up to 40 Gbps


DisplayPort 1.2 (4K at 60 Hz)





Windows 7 (64-bit), Windows 10 (64-bit)


Computer with Thunderbolt™ 3 port





macOS 10.12.4 and later


Computer with Thunderbolt™ 3 port





Operating Temperature: 5°C ~ 35°C


Storage Temperature: -20°C ~ 60°C


Relative Humidity: 5% ~ 95% (non-condensing)





Internal 200W power supply (UL, CE, CB, TUV approved)


Input: AC 100-240V, 50Hz-60Hz


Output: DC +12V/16.6A





9.53 inches x 5.31 inches x 8.75 inches


24.2cm x 13.5cm x 22.2cm





Thunder3 Quad X enclosure (drives not included)


Thunderbolt 3 USB-C cable


Setup guide





Retail Box Size: 12.9 x 10.7 x 8.4 in. (32.7 x 27.2 x 21.4 cm)


Carton Size (2pcs per carton): 18.9 x 14.3 x 12.8 in. (48 x 36.3 x 32.5 cm)


Gross Weight: 6.1 kg (retail box), 13.3 kg (carton)





When connected to a Thunderbolt 2 computer via Thunderbolt 3 to Thunderbolt 2 adapter or when connected behind another Thunderbolt device in a daisy chain, power delivery will not be supported.


This product was designed for use with the fan on and passed engineering tests with the fan on. We have added a fan switch that can turn off the fan when a low-noise environment is needed. However, the device should only be used for short periods of time with the fan in the OFF position as prolonged use may cause the device to overheat and this may cause damage to the system, cause issues to data integrity, reduce system reliability and/or shorten the lifespan of the electrical components. For best results, we recommend that the device not be used continuously for more than 30 minutes with the fan in the OFF position.


The DisplayPort does not support DP++. When using a DisplayPort to HDMI adapter, make sure to use an active adapter.


This product has components or design elements that are patented or patent pending.


The Western Digital HDD WD4005FZBX has been reported as incompatible with this enclosure.


The Akitio Thunder3 Quad X has proven to be a worthwhile investment for us as we chose Seagate 12TB IronWolf hard drives, which gives us about 48TB of super-fast Thunderbolt 3-connected storage. Read More...

Rafael Meneses - Deconstructive Media (July 26, 2018)


This is my unboxing and review of the AKiTiO Thunder3 Quad X using four Kingston UV500 SSDs! Read More...

Tomas Villegas - Leatherneck Media (July 7, 2018)


Lo primero que destaca de este Akitio Thunder3 Quad X es su diseño. Es precioso. Está totalmente construído en aluminio de alta calidad y nada mas verlo nos viene a la cabeza el antiguo Mac Pro. Si eres un fan de Apple de hace años seguro que te traerá muchos recuerdos. Read More...

Mac Josan - NASeros (June 29, 2018)


Akitio knew going into it that I'd be providing my own honest feedback and after a few weeks of heavy use, I've had very few negative things to say about it. Read More...

Tommy Callaway - tgcallaway (June 8, 2018)


Akitio has put together a solid enclosure with the Quad X offering USB PD as a strong selling feature for MacBook users and the ability to run multiple monitors as a bonus. Read More...

Tyler Bernath - TweakTown (March 15, 2018)


Outside of design, the biggest difference between the Quad Mini and the Quad X is that the latter can support 3.5-inch drives. This makes the Quad X an ideal candidate for users looking for the maximum amount of direct attached storage space, since traditional spinning disks can accommodate a significantly larger amount of data than the largest solid state drives. Read More...

Jeff Benjamin - 9TO5MAC (November 21, 2017)