Tutorials
Details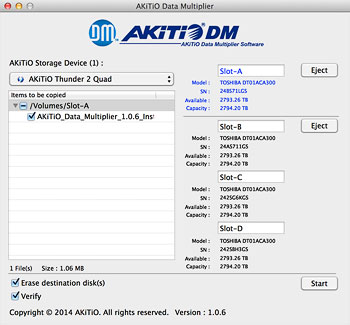 The AKiTiO Data Multiplier allows users of the AKiTiO Thunder2 Quad and the AKiTiO Thunder2 Quad Mini to easily and quickly duplicate the data from one drive and backup all the files onto up to 3 other drives.
This free application helps you save a lot of time, especially if you are a video editor or data imaging technician that has to backup a lot and make sure the footage is duplicated in a timely manner, so that the drives can be sent off to different locations for safe keeping and editing.
First, it reduces your workload, because it takes less clicks and navigating to prepare the backup. Second, it speeds up the actual copy process, because the application manages multiple copy processes at the same time, therefore reducing the time it takes to move the data.
For more information and to download the application, go to http://www.akitio.com/support/software/akitio-data-multiplier.
Details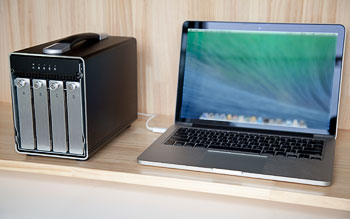 To install or replace the drives in the AKiTiO Thunder2 Quad, it's easiest if you place the device at the edge of the table so that the front protrudes over the edge.
The lock switch is located in the center underneath the front panel. Slide and hold the lock switch and then push the inner chassis from the back to expose the front panel.
Pull the top part of the front panel away from the enclosure and lift it up to remove it.
You can now unfasten the thumbscrews for those trays where you would like to install or replace the drives. Once done, replace the front panel, slide and hold the lock switch and push the inner chassis back into the enclosure.