When buying an AKiTiO product, what you get in the box doesn't just include the hard drive enclosure. Each product comes of course with a power adapter when needed and a setup guide to show you how to get started but it also comes with the necessary interface cables. That includes a Thunderbolt™ cable worth USD $29 for Thunderbolt products and in some cases even multiple cables (e.g. USB 3.0, eSATA, FireWire) for those storage drives that offer more than one interface.
In addition, AKiTiO also takes care of the little things we know from experience that can make a big difference when using the device on a daily base. For one, we include a velcro cable strap to keep your cables neat and tidy. For another, those products with an external power adapter also come with a sticker that can be used to label the adapter. No more guessing which power adapter goes where.
Wait, it gets even better! For a limited time, when you buy a Thunderbolt product directly from AKiTiO, we also ship you a free Lightning to USB cable worth USD $25. This offer is valid while supplies last for orders placed on our shop at http://shop.akitio.com.
Keeping your cables neat and tidy with the AKiTiO cable strap
The AKiTiO velcro cable strap can be attached tied to any cable you like, helping you to keep things neat and tidy not only at home but also when you take the storage drive with you.
Simply tie the strap to one end of the cable, fold the cable and then wrap the velcro strap around it to hold it in place.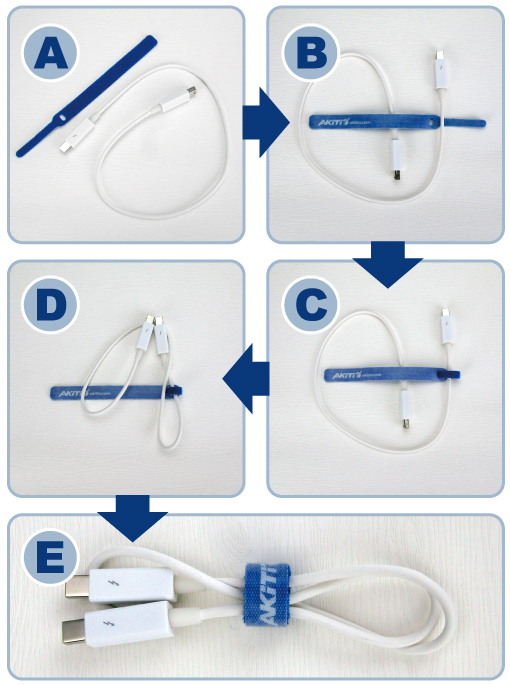 Identifying the correct power adapter with ease
Starting with the AKiTiO Thunder2 Quad, we include a sticker which has the product name on it with each device that requires an external power adapter. This sticker is designed to be used with the power adapter, making it easy to identify the correct adapter.
Not only does this save time when you are carrying the product around with others in the same bag but it also assures that you don't accidentially use the wrong adapter and damage the product.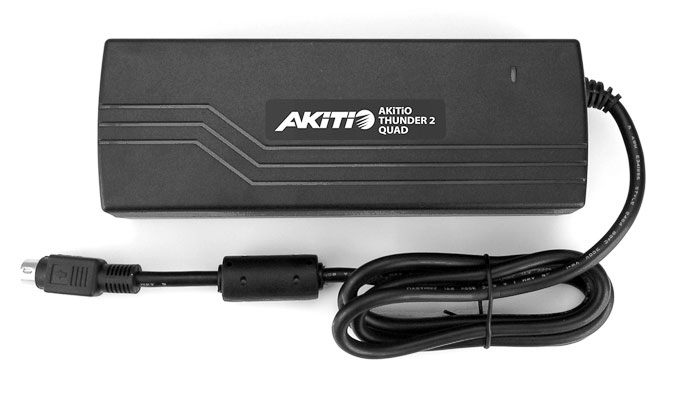 Special limited offer for AKiTiO customers
For a limited time, when you buy a Thunderbolt product directly from AKiTiO, we also ship you a free Lightning to USB cable worth USD $25. This offer is valid while supplies last for orders placed on our shop at http://shop.akitio.com or through This email address is being protected from spambots. You need JavaScript enabled to view it..
This certified (MFi) Lightning to USB cable connects your iPhone or iPad with Lightning connector to your computer's USB port for syncing and charging or to the Apple USB Power Adapter for charging from a wall outlet.